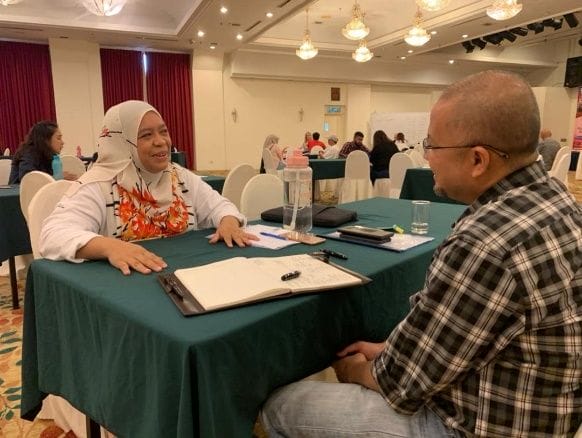 Personally, I have never experienced a surge in demand for executive coaching support by 3-5 folds at least. What boggles the mind is that this is happening during this economic downturn where expenditure in people development is often the first to go under the "chopping board"! 
So why is this so?  In good times, executive coaching is deployed for development of leaders.  Doing this now for this purpose has been considered a "luxury".  However, in bad times like this, this is for "damage control" for certain top leaders to buck up on their performance as soon as possible lest their business results be adversely affected.   
Executive coaching is sought usually because all other measures have not worked well; neither training, mentoring, consulting nor other interventions.  Superiors too have no time to provide them with such support as they are busy putting out the fires themselves.  So the next best alternative is in executive coaching.  And why is this considered? 
Executive coaching is a personal long-term working relationship between an executive coach and the incumbent.  This relationship is anything from a few months to a year or so, even more in some major cases as compared to the other interventions, which are usually one off and are often done together with the other people from other divisions thus diminishing the personal attention that can be given to an individual.  
Subjects taught in training are usually broad and do not directly address the issues and challenges the incumbent faces. They are theoretical rather than hands on learning.  Really, what is needed for results is when everything is real and is happening on real time basis, which is what executive coaching is. 
While mentoring may be closest to executive coaching, it does not build in the "accountability" element in the incumbent to perform.  In executive coaching, there is not only tracking and monitoring the incumbents' progress but also getting them to "sweat it out" to find ways to address their issues rather than having everything handled to them "on a silver platter". 
Executive coaches are "friends and partners" to their clients as opposed to behaving like top notch professionals (although they are) and experts to them.  This reduces resistance and increases acceptance of the executive coaches. In such a safe environment, the best results are achieved without the judgment, evaluation and criticism that are often attached to the other forms of intervention. 
Executive coaching integrates all knowledge and information in a coherent structure that facilitates learning at its best.  As everything is application based, the client can make sense of their learning, which can directly and immediately be applied. 
From a cost perspective, it is less expensive than many because of the results that can be achieved over a shorter period of time.  In other words, the ROI is more assured. 
Executive coaching supports clients in many areas of their leadership competencies, be it in their interpersonal skills, management skills, strategic thinking skills, marketing skills and many others, but most of all, it coaches the person instead of only dealing with their issues.  By this it means that at the end of the relationship, a better person is being built who can manage the present and future with more confidence and ability. 
CONTACT US
Check out our ICF Accredited Training Programs and Executive Coaching services. Click here: https://youtu.be/j8UnFpDG8B8  to watch a free coaching presentation. Call 03-62054488 or log in www.corporate-coachacademy.com for more program details. To register, copy and paste this link https://bit.ly/2uISyCx.