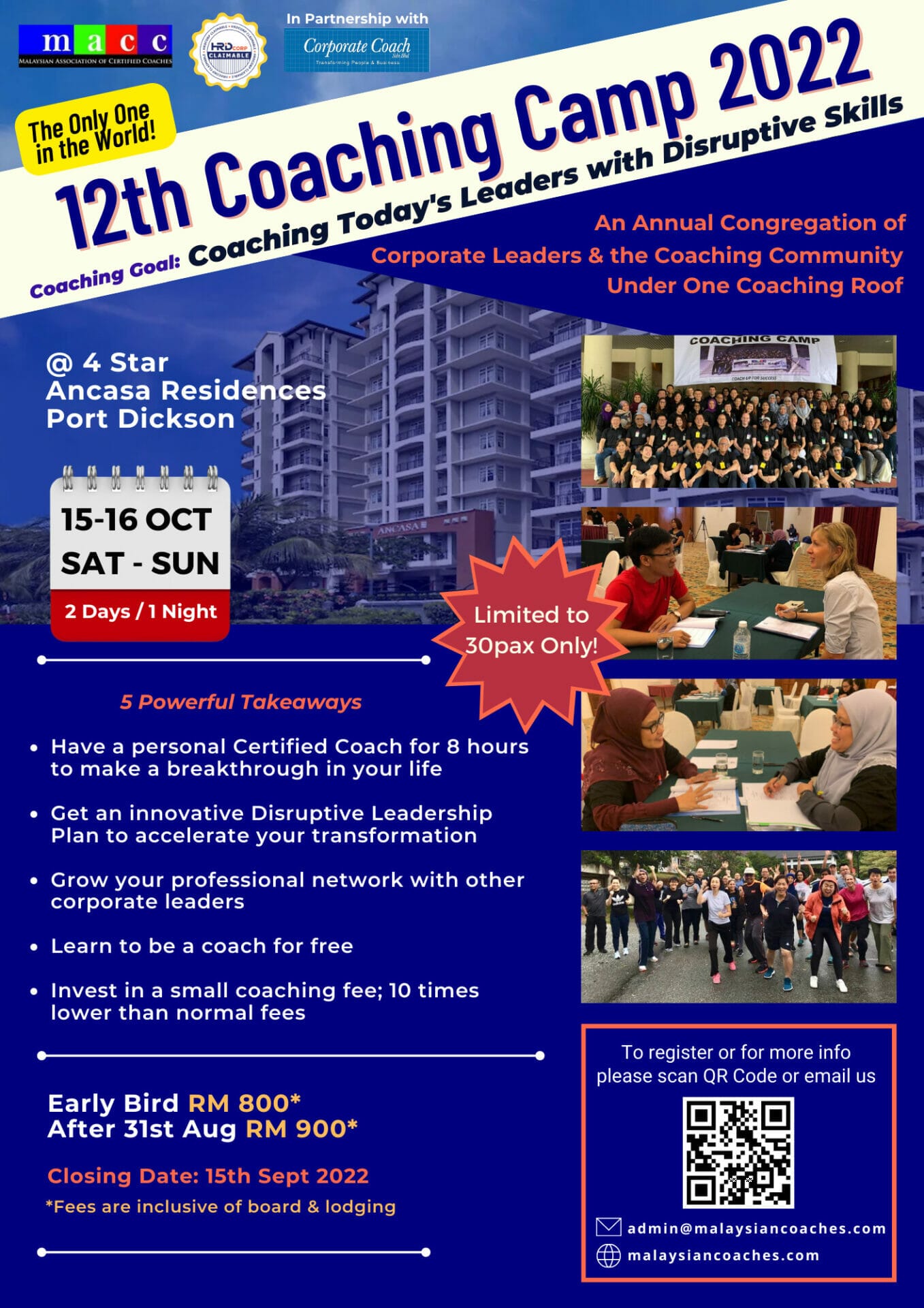 Event Detail
Start Date

15/10/2022

Start Time

10:00 AM

End Date

16/10/2022

End Time

01:00 PM
A FANTASTIC DEAL!
UP TO 8 HOURS OF PROFESSIONAL COACHING FOR YOU AT ONLY RM 800,    ALL INCLUSIVE!
The 12th Coaching Camp is back again and this time it is on 15-16 October at Port Dickson. Once again, our community of certified coaches is here to lend their coaching skills to strengthen the disruptive leadership skills of corporate and community leaders who need this very much in the world today! 
This is our annual CSR project for the community to showcase the power of Coaching which is well-proven to be the best way to accelerate the transformation of leaders more than any other interventions like training, mentoring, consulting, and others. 
In this 2 Days/1 Night event to be held at the 4 Star Ancasa Residences, each leader will spend up to 8 hours with an executive coach to help them see their issues and opportunities more clearly; and help them to make self-discovery, co-create and develop innovative plan of actions that will guide them to manage for sustainable results.  There will be other powerful activities to support this coaching engagement for even better results. 
For all of these, it is only RM800 inclusive of accommodation and meals, if you register and pay up by 31st August 2022. Thereafter, the fees is RM900. This is a fraction of the normal fees, which can be 10 times higher! It is also HRDC claimable as well! 
Do come and grab this huge opportunity to take yourself or your organization and leaders to the next best level of growth and progress!
To register, please scan the QR code or click on 'Book Now' above.